TOURISM IN SYRACUSE, SICILY
---
The Duomo (Cathedral of Syracuse / Greek Temple of Athena)
The Cathedral of Syracuse is a monument of singular charm, and its extraordinary characteristics are virtually unequalled in Italy.
The building was, in fact, made by closing the spaces between the columns of a Doric Greek temple of the 5th century BC, which in this way has survived virtually intact.
The imposing Greek columns are still clearly visible both inside and outside the church.
While keeping up with the times and changes of religion (Greek temple, church, mosque, and then a church again), the site has remained a place of worship for a good two and a half millennia!
The charm of this construction of a modern place of worship upon a much more ancient one is heightened by the fact that some of the columns "trapped" within the walls have been tilted and twisted by earthquakes that the cathedral has endured during its history. In these deformities one can see "frozen" in time the awesome force of nature that shook Syracuse in its ancient history.


The nave of the Cathedral of Syracuse.
The pillars were created by opening the walls of the internal cella ot the Temple of Athena.
The Doric columns of the Temple of Athena, "imprisoned" in the right nave of the Cathedral of Syracuse.
In addition to the remains of the Greek temple, the cathedral also houses valuable works of art that deserve a visit even by the tourist with limited time available.
For example, the baptismal font was carved from an ancient marble basin (possibly Hellenistic, or perhaps Norman), to which seven bronze lions were added in the 13th century.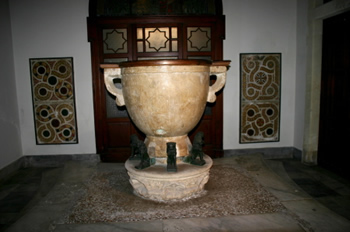 The baptismal font of the Cathedral of Syracuse, a work of the Hellenistic or Norman period.
In turn, the table of the Baroque main altar was carved from an architrave of the Greek temple.
Also worthy of attention are the Chapel of Saint Lucia (with an image in silver of the patron saint of Syracuse), and the scenic Chapel of the Sacrament, both art of the baroque, brought back to their original splendor by a recent restoration.
Also baroque is the theatrical, 18th-century facade on the Piazza del Duomo, to which a restoration has returned its original candor and elegance.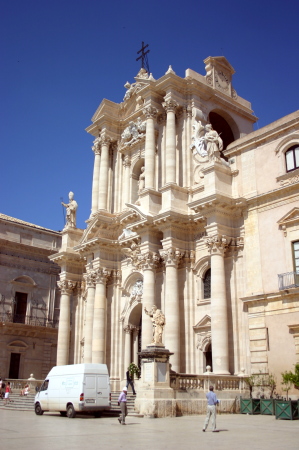 ---
How to reach the Duomo from the Algilà Ortigia Charme Hotel.
The Duomo is located a few hundred meters from the Hotel Algilà.
It is therefore recommended to make the journey on foot through the streets of baroque Syracuse.
Visitor Information.
The Duomo is open continuously from 7:30 a.m. to 7:30 p.m.
Sightseeing during services is not allowed.
Both male and female visitors are asked to avoid entering in clothes that are too skimpy, like shorts, sundresses, and the like. If one plans to walk about with light clothing it would be advisable to bring along clothing suitable for a visit.
The front steps of the cathedral present a significant architectural barrier; therefore, access should be arranged in advance for those with mobility problems.
---
Back to TOURISM IN SYRACUSE, SICILY
---