Videoclip gay.
L'omosessualità nei videoclip musicali -
Parte 4 - (2006-2013)
2013
A cura di Giovani Dall'Orto
---
Nota:
Non avendo più il tempo per seguire l'enorme produzione di videoclip lgbt ho creato su facebook questo gruppo
nel quale almeno aggiornare sulle nuove uscite e scoperte.
---
A great big world - Everyone is gay.
Alaniz, Clan Antonio - Llamadas extrañas.
Aline Queen - Princess boy.
Amador, Ryan (featuring Jo Lampert) - Define me.
Anwandter, Alex - Tormenta.
Antonaci, Alessandro feat. Michel - Dark men fuck us at midnight.
Ares, Jessy (Arestirado) - Pornstar.
Arshad - Someone you love.
* Autoheart - Moscow.
Azis - Evala.
Back room students (Hurley, Thomas) - Take me.
Barb@zul - Hijos de Adan.
Barona, Marco - Il diritto e il rovescio.
Betty Who - Somebody loves you.
Branden - Roc with you.
Brap that - Real frat boy.
Bright Light Bright Light - Moves.
Candy Apple Blue ft. Daveo Falaveo - You turn me on.
Casto, Immanuel - Sexual navigator
Casto, Immanuel - Tropicanal.
Cinema sins - Go gay for Gandalf.
Cinti, Fabio - Dicono di noi.
Crumbsnatcher, MC - The homewrecker's anthem.
D'Amico, Dargen, ft Max Pezzali - Due come noi.
Dewe, Igor - Do me.
Dewe, Igor - Sexual obsession.
Dieu Ngot Ngào Nhat - Cao thái son.
Dik (feat. Zaza Napoli) - Podruga (uncensored version).
Dildorado - S.O.S. (featuring original ABBA-guitarist Janne Schaffer).
Double Duchess - Deviant.
Esse Vu Emme - Un uomo che ama.
Evripidis and his tragedies ft. Laura Antolín - Just a kleenex.
Fabian, Lara - Deux ils, deux elles.
Fishel, Matt - Football song.
Fishel, Matt - Radio-friendly pop song.
Ford, Colton - Let me live again.
Fuoricentro - Pia contessa (ossessionata dal mazzo!).
García, Leonel & HA-ASH - Te voy a perder.
God Des and She - God, I know you love me!
Gold, Sir Ari - Play my f..kn' record.
Goss, Tom - Bears.
Gould, Robert - Just two men who Do Si Do - Marriage equality song.
Grand, Steve - All-American boy.
Grand, Steve - Stay.
Harris, Clavin ft Marar, Ayah - Thinking about you.
Hedley - Anything.
Hi Fashion - Eighteen.
Hozier - Take me to church.
Indochine - Collège boy.
India.Arie - Just do you.
Io non sono Bogte - Papillon.
Isabela - Isabela.
James, Aiden - Hurry hurry.
Jensen, Drake - Fast enough for me.
Jensen, Drake - Scars.
Jones, Nathan Leigh - Crying out for love.
Kazaky - Crazy law.
Khan, Jay - Wir sind nackt? (Are we nude?).
Kitty crimes - Find a penny.
Koortwah - Forty five.
Lambert, Mary - She keeps me warm.
Lavigne, Avril - Rock 'n roll.
Legend, John - Made to love.
Le1f - Spa day.
León, Eugenia ft. Carla Morrison - Luna de Octubre.
Leonard, Stephen - Wanting it all.
Lieb, Eli - Young love.
Logo - Cardiocleptomania.
Los Massadores - Adamo ed Ivo.
Lutero, Juninho - Matéria prima original.
Lynn, Logan - Hologram.
Malys - Uomo + di te.
Matthaeis, Anna de & The Oneders - Memoria.
Matthew, Scott - I wanna dance with somebody.
Melu - Contigo.
Maverick Mista Majah P - Closet is open.
Mayne, Kevan - Homobros.
McIver, Blake - Wish I didn't need you.
McGovern, Jonny (Gay Pimp) - Do your thing in MTL - French kiss.
Mei-Chen Juan - Mànmàn shiguàng.
Mel B - For once in my life.
Mikal, Kevin - Candy yum yum.
Mister Chase - Wonderful (A message for the LGBT in Russia).
Moire, Emmanuel - Ne s'aimer que la nuit.
Munro, Chris - Go.
One Direction - Best song ever.
Onewayroad - Sto con te.
Panic! at the disco - Girls-girls-boys.
Papasidero, Davide - Non voltarti più.
Paton, Raffaëla - I am proud.
Pee, J. - I'm not gay.
Persia ft. Daddies Plastik - Google Google apps apps.
Peter, Gio Black - Box.
Peter, Gio Black - Flip flopping.
Peter, Gio Black - Revolving door (New fuck New York).
Pethit, Thiago - Moon.
Pinguini tattici nucleari - Test d'ingresso di medicina.
Poisson, Pupi - SexDanceLove.
Pom & Aong - [The answer I never knew].
Potpourri of Pearls - Island.
Rowe, Hailey - My boyfriend is gay.
Rubino, Renzo - Il postino (amami uomo).
Scarnici, Greg - Sex tape.
Solomon - The way we were.
Soto, Ab - Doin' it.
Soto, Ab - Let's go ho!
Spleen, Oli - Fag machine.
Ssion - Luvvbazaar.
Stars - Hold on when you get love and let go when you give it.
Statham, Pete - A bear for life.
Stereogamous ft. Shaun J Wright - Face love anew.
Strahm, Doug - Better this way.
Strahm, Doug - I'm gonna go [to DecaDance].
Strahm, Doug - U.S. military love story - Leaving it behind.
Stromae - Tous les mêmes.
Sunshine - Showering with wine.
Tarcísio Meiras Band - Cura gay.
The Paisley fields - Windows fogged up in your pickup truck.
The Hidden Cameras - Gay goth scene.
The irrepressible - Two men in love.
Tuzii, Nicole - Non è tutto come appare.
Velardo, Sara - Il mio amore immenso.
Velasquez, Brendan - Things that go bump in the night.
Vensun ft. Sylvia Tosun & David Vendetta - Love is love.
Vine, Sherry - Twerk bitch (Britney Spears parody).
Yehonathan - Close to you.
Yehonathan & Lyrik - Across the Universe (New version).
Wilder, Oscar - Vuelve.
Wilson, Jake feat Umphress, Alysha - Shit I like.
* Xelle - Red flag.
Yang, Rainie - Tian shi zhi yi (Angel wings).
Yehonathan - Close to you.
Yehonathan - I got to.
Xboy - Boys.

* = Propaganda antirussa in occasione delle Olimpiadi invernali di Sochi (Russia).


Agerblad, Dennis - Bananasplit. (Reklame for CJ Fashion).
Aguilera, Christina - Let there be love.
Alaniz, Clan Antonio - Llamadas extrañas.
Antonaci, Alessandro - Elicriso (Gay short film).
Antonaci, Alessandro - Where have you been? (Rihanna gay cover).
Arisa feat. Adam, Omer - Tel Aviv Pride 2013.
Belli, William, Detox & Vicky Vox - Silicone.
BQE (Greg Scarnici) - Dick pic.
Bracco, Tommy - Tommy Bracco for Prom ''Queen'' 2013.
Cher - Woman's world - RuPauls drag race remix (LogoTV).
Chris Andrews meets Cher - Take it like a man.
Cinema sins - Go gay for Gandalf.
Dana international - Dana Loca - Tel Aviv pride 2013.
Dawson, Shane & Liam Horne - Wanna make love?
Essevuemme - Domani.
Falaveo, Daveo - Royals (gay version).
Franco, James & Seth Rogen - Bound 3 (Kanye West & Kim Kardashian Bound 2 spoof).
Full frontal freedom - Same love, danced.
Frank & Cerrone - Forse so' gay (parodia di Ylvis, What does the fox say..).
Garçon Garçon - Instant attraction.
Giambrone, Giuseppe - Il prurito non ti lascia più da sola.
Hannibal, Bjørn - Vis din homostil (Gangnam style parody)
Helix studio - Parodia di: Thicke, Robin - Blurred lines (ft. T.I. & Pharrell).
I soliti idioti - Un figlio sarà.
JamesIndependentFilm - Die young (Ke$ha gay parody).
Jenkins, Levonia [Greg Scarnici] ft La Lopez - So c#nt.
Jones, Jer Ber - Model for me.
Kollektivet - The gay rise in America.
Lady Gaga - Americano.
Macklemore x Ryan Lewis - Same love - in ASL.
Malay, Jessi - Bougie (con Todrick Hall, Pandora Boxx, Colby Melvin, Rhea Litre, Michael Silas, Brandon Bryant, Sam Garfield).
Mangiacapra, Francesco, Uomo bastardo (Marcella Bella).
Marley, Bob - I'm a rainbow too.
Merrino, Marco e Francesco - Gay.
McGovern, Johnny - Girl, I fucked yo' boyfriend [2008].
McKee, Bonnie & Chow, Kelsey - Sleepwalker.
Matalon, Idan & Lihi Admon - Tel Aviv Love fest 2013.
Mod Carousel - Sexy boys (Robin Thicke's Blurred lines parody).
Mod Carousel ft Leeni - Can't be tamed (Miley Cyrus cover)
My Gay Roommate - Hard candy - (Episode 5).
Neidt, Chad - Scorpion vs. Sub-Zero song.
Ocean, Frank - Bad religion.
One orientation - What makes you homosexual?
Preben og Kenny - I'm not gay.
Queens of Pop - So what (P!nk parody).
Randy blue - Harlem (booty) shake.
Randy blue - Men ooh yeah (con le pornostar della Randy Blue).
Salles, Éric - Outra canção de amor.
Scandocious J.r. - BoyFriend.
Scandocious J.r. - Found my happy.
Scandocious J.r. - I wanna nigga.
Scandocious J.r. - Trade likes my cakes.
Scandocious J.r. - Youngsta.
See, Chester et all. - We can't stop (Miley Cyrus cover).
Sexaholics - Fool around.
Sexaholics - Mirabilia venenosa.
Sexaholics - Passivity.
Sofia - Mum, I like a girl.
Spears, Britney - Work bitch, by Moovz.
Stereo, Tom - Be proud - The summer style.
The key of awesome! - What makes you beautiful?
Transkuntinental - Chow down (at Chick-fil-A).
Tuci, Paolo - Boys - (Sabrina Salerno vs Paolo Tuci ft. PRO)
Vine, Sherry - Grindr queen! (parodia di "Dancing queen").
Vine, Sherry & Mistress Formika - Fight for your right (to be queer).
Voorhees, Bradley - Who knew (P!nk cover).
Willam, Detox & Vicky Vox - Boy is a bottom. (Parodia di Alicia Keys - Girl on fire).
Xiu Xiu (Kent James) - Joey's song.
---
2013
---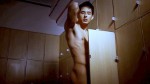 2013 - Castro, Sebastian - "Bubble" [single].
Ecco un video delizioso ma decisamente strano. A iniziare dal cantante, americano d'origini peruviano-filippine, che vive nelle Filippine, ha un nome spagnolo e canta in inglese... Potere della globalizzazione.
A quanto leggo in Rete Castro è la classica "internet celebrity" (attore / modello / blogger / vlogger / Youtube celebrity), che s'è data al canto, sfruttando per farsi notare, come molti prima di lui, le doti fisiche -- tutt'altro che spregevoli, in effetti. E se l'audio ha il tipico suono "piallato" delle canzoni molto ritoccate per eliminare le stonature, la parte visiva, che salvo il nudo frontale mostra tutto il resto che è possibile mostrare del (bel) corpo del cantante, spiega ampiamente il successo esplosivo del video in Rete (mentre sto scrivendo - aprile 2013 - siamo a quasi 600.000 visualizzazioni).
Altra stranezza, il tema della canzone. La "bubble" (bolla) del titolo altro non è se non il "gluteo a palloncino" del cantante/protagonista, da tutti concupito (anche se poi i "tutti" risultano essere sempre Sebastian Castro, che recita tutti i ruoli). Perché sì, anche se il video è uscito per San Valentino, il tema è la perdita della verginità, sul lato B, del cantante. Che contemporaneamente all'uscita del video ha anche fatto coming out, suscitando un vespaio nel mezzo della tempesta.
Sul tema Castro ha dichiarato: "Ho cercato di ricreare la sensazione della perdita della mia verginità. Volevo solo fare qualcosa che dal punto di vista visivo e musicale fosse così istintuale, da dare a tutti un'idea di cosa potesse voler dire".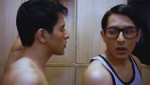 In realtà, però, più che una storia d'iniziazione drammatico-romantica alla Brokeback mountain, il video risulta una storiella semi-comica, anche se per fortuna non scollacciata.
Il migliore amico del protagonista in palestra inaspettatamente comincia a guardarlo con intenzione, e gli propone sui due piedi... diciamo... d'allargare i punti di vista. Il protagonista ci sta senza esitare, ma dopo l'allargamento chiede cosa sia mai stato fatto al suo povero sederino, dato che ora non riesce più a camminare straight, diritto. Ma viene rassicurato: l'amico è etero (straight), lui è etero, e insomma tutti e due restano etero anche dopo quello che hanno fatto. Il protagonista, ufficialmente, s'è solo stirato un muscolo facendo palestra, tutto qui.
Ok, siamo alla barzelletta scollacciata, ma il video è stato realizzato palesemente con in mente il mercato gay, anzi sfacciatamente gay, e non gli etero da "Bar sport" che di solito raccontano questo tipo di barzellette. Il cantante si presenta infatti per tutto il video come un go-go-boy, "vestito" (si fa per dire) solo d'un paio di mutande, e balla assieme a tre ragazzi dai tratti filippini anch'essi "vestiti" (si fa per dire) nello stesso modo. E l'ambientazione alterna unicamente gli spogliatoi della palestra e un go-go bar. Non credo quindi siano possibili dubbi sui destinatari del messaggio: di sicuro non i maschi etero (che infatti su Youtube stanno tempestando il video di commenti del tipo "frocio!", oppure "frocio!" ed anche "frocio!").

Credo insomma che il video vada letto in chiave autoironica e di sdrammatizzazione d'un tema ancora molto tabù. Tant'è che perfino sulle chat italiane tutti i gay sono assolutamente, in massa, "attivi". Figuriamoci nelle Filippine.
Scherzosa, perché "sopra le righe", è anche la figura del medico a cui si rivolge il protagonista per trovare sollievo al dolore interiore. Costui lo cura chiedendogli di calarsi i pantaloni, dopodiché s'inginocchia per procurargli il sollievo che cerca. E quando il protagonista chiede stupito perché tutti vogliano vederlo senza mutande, scatta il ritornello: "perché mi piace il tuo sedere a palloncino, / perfino la peluria, / e il delizioso sentiero lungo la fessura tra questi due muscoli"...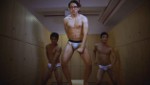 Non ho memoria di nessun altro video che abbia saputo proporre in modo tanto sfacciato ma al tempo stesso leggero e autoironico un tema come questo: probabilmente è per ciò che "Bubble" mi ha spiazzato. Si tratta palesemente d'un prodotto d'intrattenimento, senza pretese, con il solito motivetto ossessivo che ti resta impresso e un paio di movimenti di danza azzeccati, tutto qui.
Eppure la discussione che ha scatenato (sul coming out, sull'essere gay, sulla condizione omosessuale... e una parte del dibattito è in tagalog, quindi vallo tu a sapere cos'altro si dicono gli internauti!) è maledettamente seria. Oltre tutto, da ciò che dice e risponde su Youtube, Castro non è affatto uno stupido, e probabilmente è stato questo ad aver salvato il video, che gestito in modo diverso avrebbe avuto tutte le premesse per risultare la più volgare piccionata del decennio (che per ora resta ad "OK2BGAY").

E invece non lo è. Riesce ad essere licenzioso senza essere volgare, malizioso senza scadere nel pecoreccio, ammiccante senza essere porno. Anzi, in un mondo in cui ormai i cantanti prima d'esibirsi non si preparano più facendo vocalizzi bensì togliendosi le mutande, per una volta la (semi)nudità del video non è (del tutto) gratuita, visto che è funzionale al racconto d'un tema che, piaccia o no, nel campo della canzonetta ha ben pochi altri precedenti.

Conclusione: si guarda con piacere, si ascolta con divertimento, e alla fine piace. Consigliato.
---
2013 - Promo, parodie e fan-art
---
.
<--- Torna all'indice di "L'omosessualità nei videoclip musicali".
<-- Torna al 2012.
Vai al 2014 -->
---
[Torna alla pagina principale]
[Torna all'indice dei saggi di cultura gay]
[Mandami correzioni, suggerimenti o proponimi un nuovo link]